OHS Promotes National Teen Driver Safety Week
October 13, 2021
[DOVER, Del.] October 13, 2021 — Here in Delaware, the number of teens dying in crashes is going up. Even though there was a 60% drop in injury crashes for teens in 2020, the state saw a 33% rise in teen deaths as a result of a crash.
And it's not just a local problem. Nationally, teens ages 16 to 19 are more likely to die in crashes than any other age group, and motor vehicle crashes are the number one cause of teen deaths.
According to the CDC, almost 2,400 teens were killed and about 258,000 were sent to the emergency room as the result of motor vehicle crashes in 2019 – which means every day, seven teens died and hundreds more were hurt as a result of crashes.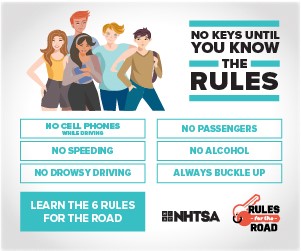 Sponsors are the key
Parents and other caregivers can be the biggest influencers on teens' choices behind the wheel if they take the time to talk with their teens about some of the biggest driving risks.
"Start the conversation early," says Kimberly Chesser, Director, Delaware Office of Highway Safety. "Before they even get behind the wheel, talk to your teens about safe driving early and often."
"While it may not always seem like it, your kids are watching and learning from you," Chesser continues. "As a parent or caregiver, you have the opportunity to set the standard. You can do that by demonstrating safe driving behaviors any time your kids are in the car with you – behaviors like buckling up, driving at or below the speed limit, and pulling over to make a call."
"When it comes to actually teaching your teen how to drive, make sure to give them consistent and positive feedback," Chesser says. "Also, expose them to different driving situations and weather conditions in a safe and controlled way – so when they actually encounter those conditions, your teen has the confidence and experience to safely navigate the situation."

Impaired Driving
All teens are too young to legally buy, possess, or consume alcohol. However, nationally, in 2019, 16% of teen drivers involved in fatal crashes had alcohol in their system.
Alcohol isn't the only substance that can keep your teen from driving safely: marijuana affects a driver's ability to react to their surroundings. Driving is a complex task and marijuana slows the reaction time.
Remind your teen that driving under the influence of any impairing substance — including illicit or prescription drugs, or over-the-counter medication — could have deadly consequences.
It is critical that teen drivers understand why they shouldn't drive impaired – strict penalties may apply, such as losing their license or facing additional consequences for breaking rules they agreed to follow when they started driving.
Outsized Impact on Delaware Roads
Teen drivers only make up 5% of Delaware's total driving population, but they're responsible for 15% of all reportable crashes.
• Teen drivers 18 – 19 years old were responsible for 63% of reportable crashes.
• Teen drivers 16 – 17 years old were responsible for 37% of reportable crashes.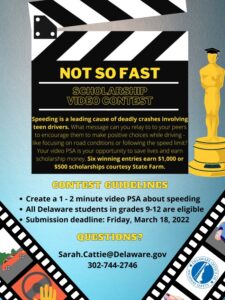 What we're doing
The Office of Highway Safety is proud to partner with State Farm to offer Delaware teens a chance to positively impact their peers and learn about the dangers of speeding through a scholarship video contest.
The 'Not so fast' video PSA contest engages teens by asking them to consider what they have to gain and what they have to lose by speeding. All Delaware teens in grades 9 through 12 are eligible to submit a 1 – 2 minute video PSA highlighting positive driving choices.
Six winning entries will earn scholarships up to $1,000. The deadline to submit the PSA is Friday, March 18, 2022.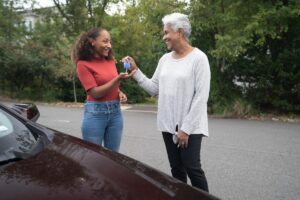 The Office of Highway Safety is also helping teen driver's sponsors understand their responsiblities and obligations under the law through its online 'Graduated Driver's License Parent Orientation Program.' The course is approximately one-hour long and does not have to be completed all at once.
The Office of Highway Safety also has a Parent-Teen Driving Contract available online to help teen drivers and their sponsors set clear expectations by creating driving rules together. This step allows teens to feel more control and ownership over the process.
The Office of Highway Safety also encourages all families to take the pledge to drive phone free.
Stay ahead of the crowd with the latest news on enforcements, campaign updates, DUI checkpoints, and more from the Delaware Office of Highway Safety.
Scan the QR Code below to sign up today!