The Delaware Office of Highway Safety Launches "Operation Braking Point 2.0"
June 6, 2023
Dover, Del. (June 6, 2023) — The Delaware Office of Highway Safety (OHS) and the Delaware Department of Transportation are supporting the Delaware State Police and other local law enforcement agencies to initiate "Operation Braking Point 2.0". This is a zero-tolerance, high-visibility campaign enforcement that focuses on the concerning increase of traffic fatalities on Delaware roadways that involve speed and other traffic safety behaviors. There were 165 fatalities in Delaware in 2022 and Delaware is on pace to surpass that in 2023. April alone was the deadliest month in 30 years for fatalities on Delaware Roadways.
This enforcement initiative was first introduced in January 2023 and proved successful, resulting in a total of 524 traffic contacts, with 464 tickets issued, 270 summons for speeding violations, 4 criminal arrests, and 9 seatbelt assessments. Due to the outcome, Delaware is launching "Operation Braking Point 2.0" from June 9 to June 17. High-visibility enforcement will take place along SR-1, I-95, and I-495, Rt. 13, Rt. 113 including but not limited too other dual lane higher speed roadways. DelDOT will be assisting with adding signage throughout Delaware to inform motorists of the enforcement
Agencies to participate:
| | |
| --- | --- |
|  Blades PD | Newark PD |
| Delaware State Police | New Castle County Div. of Police |
| Delmar PD | Newport PD |
| Dover PD | Selbyville PD |
| Milford PD | |
"It is the duty of the Delaware State Police to ensure the safety of all residents and visitors in the first state," said Colonel Melissa A. Zebley, Superintendent of the Delaware State Police. "Promoting safe driving practices each and every day is an integral part of fulfilling that duty. Speed continues to be a contributing factor in fatal motor vehicle crashes in 2023. Simply put, obeying the speed limit reduces the risk of all motor vehicle crashes, protects innocent lives, and prevents injuries. It is imperative for us to remember that every time we put that gear in drive, we are responsible not only for our own safety but the safety of others. It only takes a few extra seconds or minutes to arrive alive, so let's make a commitment to protect lives, prevent crashes, and foster a culture of responsible driving in our community."
"We are hitting a record number of traffic fatalities statewide with 63 people killed in the first five months of the year. These crashes are completely preventable if drivers slow down, and we need to remember these aren't just numbers, these are people and families whose lives are forever changed." Said Chief of Police Cecilia Ashe, Milford Police Department. "We join the Delaware Office of Highway Safety in an enforcement effort to reduce the likelihood of these crashes. Milford Police Department was provided with grant funding, which will allow officers to get out on RT 1 and RT 113 through the City of Milford to conduct speed enforcement." Chief Ashe advised that Milford Police will do a 1:1 match for the number of officers provided through the grant funding, "we are at a "BRAKING POINT" and we mean business".
Speeding contributed to one-third of all fatal traffic crashes in 2022. Speeding is dangerous and drastically increases the chances of death or serious injury in the event of a crash. Seeing the loss of life where it could have been prevented is devastating and seriously impacts everyone involved.
Consequences of Speeding:
OHS reminds Delawareans of the many negative consequences that speeding can impose, including:
Greater risk of crashes, injuries, and fatalities: The greater the speed, the less control the driver has and the higher the severity of the crash.
Enforcement costs: Speeders receive fines and points on their driver's licenses that increase as they exceed the speed limit. These consequences continue to be more severe with each repeat offense.
Inconvenience: The loss or suspension of a driver's license means having to rely on another person for transportation.
Potentially higher insurance premiums: Driving record is a big factor when it comes to auto insurance premiums. Moving violations, such as speeding tickets, can be a warning to insurance companies that a driver is a high risk to insure. It can also result in drivers having insurance premiums increased.
Tips for Traveling with Speeders:
Speeding drivers affect everyone on the road. Here's how to minimize danger when encountering this behavior.
Move over: If you are in the left lane and someone wants to pass, move over and let them by.
Give yourself plenty of space: Speeding drivers may lose control of their vehicle more easily. Keep your distance.
Be aware: Keep an eye on the accelerating driver and be prepared to react if the worst happens.
Avoid engaging: If a speeding or aggressive driver tries to engage you in risky driving, don't do it.
Call the police: If you believe a driver is following you or harassing you, alert the police when it is safe to do so.
This a reminder for all drivers to slow down, buckle up, and obey the rules of the road so everyone can Arrive Alive.
For more information on the campaign, statistics, and education visit: https://www.arrivealivede.com/slow-down/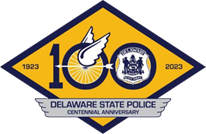 About the Delaware Office of Highway Safety
The Office of Highway Safety (OHS) is committed to improving the safety of Delaware's motoring public by focusing on behavioral traffic safety issues, such as impaired driving, seat belt use, speeding, child passenger safety, pedestrian and bicycle safety, motorcycle safety, and teen driving issues. FAQs can be found at ArriveAliveDE.com. Follow OHS on the Delaware Office of Highway Safety website, Facebook, Twitter, Instagram, and TikTok.