Slow Down and Arrive Alive. OHS steps up speeding enforcement October 30 - November 14, 2021
November 1, 2021
[DOVER, Del.] November 1, 2021 — Despite gains in vehicle safety and passenger protection, thousands of Americans still die each year in speed-related crashes. The National Highway Traffic Safety Administration (NHTSA) and the Federal Highway Administration (FHWA) recognize that speeding is a contributing factor in one-third of all deadly crashes.
Additionally, while national data finds Americans drove shorter distances in 2020, the number of deadly crashes went up. The U.S. Department of Transportation's National Highway Traffic Safety Administration's (NHTSA) analysis finds that speeding is one of the main behaviors that drove this increase; speeding related crashes rose 11% in 2020 compared to 2019.
NHTSA's research suggests that throughout the national public health emergency and associated lockdowns, driving patterns and behaviors changed significantly, and that drivers who remained on the roads engaged in more risky behavior, including speeding. Traffic data indicates that average speeds increased throughout the year, and examples of extreme speeds became more common, while the evidence also shows that fewer people involved in crashes used their seat belts.
Here in Delaware, 37 people died from speed-related crashes in 2019. That's a rise from both 2017 and 2018 – both of which saw 33 speed-related fatalities.
Who is most at risk
Drivers of all ages may exceed posted speed limits, but the relative proportion of speeding-related crashes to all crashes decreases with increasing driver age
Nationally, among drivers involved in fatal crashes, young males are the most likely to have been found speeding. In Delaware, there were 34 suspected speed fatalities, and 25 (75%) were male in 2020.
Drivers ages 20-24 are involved in the highest number of speed crashes, accounting for 24% of them.
Drivers 19 & under are involved in the second-highest (23%).
What we're doing
The Delaware Office of Highway Safety (OHS) is making speeding awareness a priority this November. Starting Saturday, October 30th and running through Sunday, November 14th, Delaware drivers will see more law enforcement officers along the roadways as part of OHS's November Speed Awareness enforcement campaign. Law enforcement officers from across the state are partnering with OHS to reduce incidents of speeding and to raise awareness that speed kills.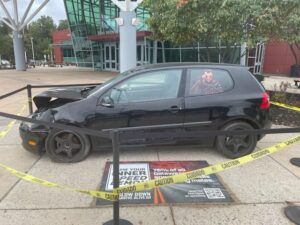 OHS is also partnering with Ebright Auto Repair to show drivers the aftermath of a speed-related crash. Josh Ebright, owner of Ebright Auto Repair in Smyrna, donated the wrecked vehicle. The damaged car highlights just some of the consequences of a crash.
The vehicle is parked in front of the Biden Welcome Center and will remain there through the end of the month.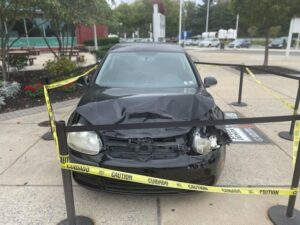 Speeding, crashes, and consequences
Speeding greatly reduces the driver's ability to slow a vehicle when necessary or to steer safely around an unexpected curve, another vehicle or hazardous object in the roadway. In school zones or neighborhoods, that can include a child or an animal running across the road.
According to NHTSA, a crash on a road with a speed limit of 65 mph or greater is more than twice as likely to result in a fatality than a crash on a road with a speed limit of 45 or 50 mph and nearly five times as likely as a crash on a road with a speed limit of 40 mph or below.
"Any time drivers speed, they are putting themselves, their passengers, and other drivers and pedestrians at risk," says Kimberly Chesser, Director, Delaware Office of Highway Safety. "Too many lives are lost each year in speeding-related crashes, and we are determined to change that."
"Driving above the posted speed limit or speeding in bad weather conditions also dramatically increases the probability that a driver will be involved in a crash," Chesser continues. "That's why we're working with our law enforcement partners to remind drivers to stay alert, to watch for and obey all posted speed limits – especially in changing conditions."
Stay ahead of the crowd with the latest news on enforcements, campaign updates, DUI checkpoints, and more from the
Delaware Office of Highway Safety. 
Scan the QR Code below to sign up today!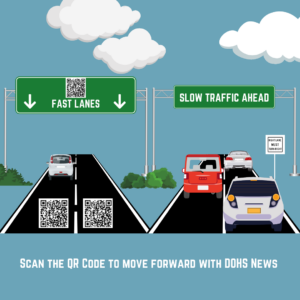 About the Delaware Office of Highway Safety
The Office of Highway Safety (OHS) is committed to improving the safety of Delaware's motoring public by focusing on behavioral traffic safety issues, such as impaired driving, seat belt use, speeding, child passenger safety, pedestrian and bicycle safety, motorcycle safety, and teen driving issues. Follow the Delaware Office of Highway Safety on ArriveAliveDE.com, Facebook, Twitter, Instagram, and Snapchat.