Child Passenger Safety Week: Updates to Delaware Car Seat Law
September 18, 2023
Dover, Del. (September 18, 2023) – Child Passenger Safety Week is from September 17 to September 23, 2023. The Delaware Office of Highway Safety wants parents and caregivers to know that the car seat law in Delaware has been updated. The new law is more specific and provides clearer guidelines on which seat is the right seat for young riders. It is important that children are in the correct car seat and that it is properly installed.
Out with the Old – Delaware's Child Restraint Law used to state:
All children must be properly restrained in a federally approved child safety seat appropriate for the child's age, weight, and height up to 8 years of age or 65 lbs. whichever comes first.
In with the New – As of June 30, 2023, Delaware's Child Restraint Law requires:
Children under age 2 AND 30 pounds must ride in a rear-facing car seat
Children under age 4 AND 40 pounds must ride in a harnessed car seat
Children in booster seats must remain in their booster seat until reaching the height or weight maximum listed by the booster seat manufacturer (There's no booster seat with a height maximum lower than 4'4″)
Parents and caregivers will have until June 30, 2024, to comply with the law. The penalty for the first violation is a referral to one of the OHS car seat fitting stations. Don't let a violation be the reason you have your car seat checked. Make a free appointment now with a certified car seat technician to make sure your kids are riding safely. You can find the contact information for the fitting stations on our website: ArriveAliveDE – Secure the Kids.
"If you've never worked with a car seat before, it is truly a whole new world. Car seats can be confusing, let our certified technicians help you." Said Aubrey Klick, Fitting Station Coordinator, Delaware Office of Highway Safety. "Our services are free, and the parents and caregivers are heavily involved in the process to ensure they are comfortable installing their car seats. Occupant safety for all ages is important to us, and we are always happy to schedule an appointment and check your car seats."
Children have necks and spinal cords that are still developing, and being in the right seat can drastically reduce the chances of serious injury or fatality in the event of a crash. Data shows that car seats reduce the risk of fatal injury by 71% among infants and 54% among toddlers. Car crashes are a leading cause of fatalities for children ages 1 to 13. In Delaware, 4 out of 5 child safety seats are not installed correctly.
Free Car Seat Safety Check Events:
Saturday, September 23 from 10:00 a.m. – 2:00 p.m. – Family Emergency Preparedness Day – Brecknock Park, 80 Old Campden Road, Camden, DE 19934
Thursday, September 21 from 9:00 a.m. – 4:00 p.m. – Smyrna Municipal Park, Skatepark Parking lot, Smyrna, DE 19977
Here are some more tips to keep young riders safe:
Don't rush to transition to the next seat. Follow the guidelines and keep your child in each stage of child restraint as long as possible.
Be a good example. Make sure you always wear your seatbelt too.
Check your car seat expiration date. Do not use an expired or damaged car seat.
Register your car seat so you can be notified if there is a recall:  Click here to register: https://www.safekids.org/other-resource/register-your-car-seat
No matter how short the drive is, always use the proper restraints.
Any vehicle the child may ride in should have the correct car seat that is properly installed. Every ride, every time.
Never place a rear-facing car seat in front of an active frontal airbag.
For more information on child passenger safety, visit our website: ArriveAliveDE – Secure the Kids.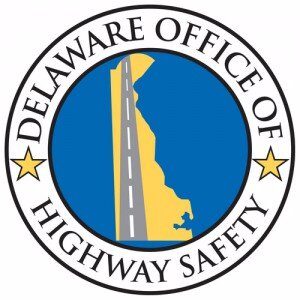 About the Delaware Office of Highway Safety
The Office of Highway Safety (OHS) is committed to improving the safety of Delaware's motoring public by focusing on behavioral traffic safety issues, such as impaired driving, occupant protection/seat belt usage, child passenger safety, speeding, pedestrian, motorcyclist safety, and teen driving issues. Follow the Delaware Office of Highway Safety on ArriveAliveDE.com, Facebook, Instagram, X, and TikTok.