Impaired drivers put everyone at risk.
Make the smart choice and plan for a sober ride home – before the party begins.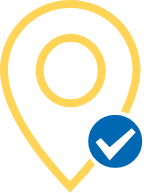 Sign up for DUI checkpoint text alerts
To sign up for text alerts, enter your mobile phone number (without dashes).
Standard text messaging rates apply. You can unsubscribe at any time.
WHEN YOU DRIVE DRUNK, YOU'RE NOT ALL THERE
Cuando maneja ebrio, no está en condiciones de hacerlo
Click the image to see the impact of alcohol on your driving skills. Haga clic en la imagen para ver el impacto del alcohol en sus habilidades de conducción.
Impairment Begins: .02% BAC
Alcohol starts affecting the body within minutes, and your judgment is the first to suffer. Decisions like "The light is yellow. Should I slow down?" become difficult and potentially deadly.
La alteración comienza con: concentración de alcohol en la sangre de 0.02 %
El alcohol comienza a afectar el cuerpo en unos minutos, y el criterio es lo primero que se pierde. Las decisiones como "El semáforo está en amarillo. ¿Debería pararme?" se hacen más difíciles y potencialmente mortales.
Impairment Begins: .05% BAC
Complex motor skills, such as hand/eye/foot coordination, become more difficult for even relatively "simple" maneuvers like making a turn.
La alteración comienza con: concentración de alcohol en la sangre de 0.05 %
Las habilidades motrices complejas, como la coordinación de manos/ojos/pies, se hacen más difíciles incluso para maniobras relativamente "sencillas" tales como girar.
Impairment Begins: .08% BAC
Drunk drivers often lack speed control – whether driving too fast or too slowly. Either can be dangerous on Delaware highways.
La alteración comienza con: concentración de alcohol en la sangre de 0.08 %
Los conductores ebrios suelen perder el control de la velocidad, y manejar demasiado rápido o demasiado despacio. Ambas cosas pueden ser peligrosas en las autopistas de Delaware.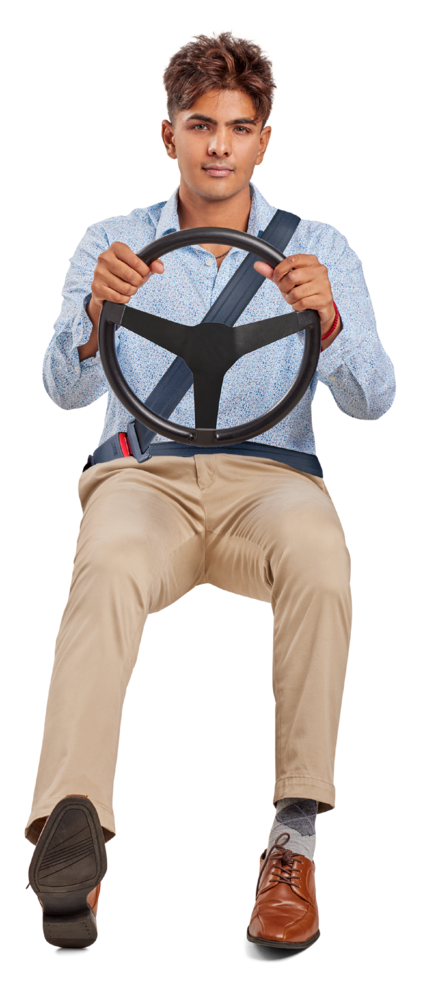 Impairment Begins: .02% BAC
Very quickly, your senses begin to decline, including the essential skill of rapidly tracking a moving target.
La alteración comienza con: concentración de alcohol en la sangre de 0.02 %
Sus sentidos se reducen muy rápidamente, incluida la habilidad esencial de seguir con rapidez a un objeto en movimiento.
Impairment Begins: .05% BAC
At .05% blood alcohol level, an impaired person may have difficulty steering and keeping their vehicle from weaving in and out of lanes.
La alteración comienza con: concentración de alcohol en la sangre de 0.05 %
Con una concentración de alcohol en la sangre de 0.05 %, una persona puede tener dificultades para manejar el volante y evitar salirse del carril.
Impairment Begins: .05% BAC
Alcohol slows your brain's ability to process dangerous situations and may slow your reaction times by 15 to 25 percent.
La alteración comienza con: concentración de alcohol en la sangre de 0.05 %
El alcohol ralentiza la capacidad de su cerebro para procesar situaciones peligrosas y puede ralentizar su velocidad de reacción de un 15 a un 25 por ciento.
Gauging the Effects of Alcohol
Blood alcohol concentration (BAC) refers to the percent of alcohol in a person's bloodstream. In Delaware, a person is legally intoxicated if they have a BAC of .08% or higher. BAC is affected by many things, including the amount of alcohol consumed, the period of time in which it was consumed, gender, body weight and body fat percentage. Only the passage of time will lower a BAC.
Learn more here.
Select a BAC level to see the typical effects of alcohol on you and your driving.
BAC
Blood Alcohol Concentration
Effects on You
Some loss of judgment
Relaxation
Slight body warmth
Altered mood
Exaggerated behavior
May have loss of small muscle control (e.g., focusing your eyes)
Impaired judgment
Lowered alertness
Release of inhibition
Muscle coordination becomes poor (e.g., balance, speech, vision, reaction time and hearing)
Harder to detect danger
Judgment, self-control, reasoning and memory are impaired
Clear deterioration of reaction time and control
Slurred speech, poor coordination and slowed thinking
Far less muscle control than normal
Vomiting may occur (unless this level is reached slowly, or if a person has developed a tolerance for alcohol)
Major loss of balance
Effects on Your Driving
Decline in visual functions (rapid tracking of a moving target)
Decline in the ability to perform two tasks at the same time (divided attention)
Reduced coordination
Reduced ability to track moving objects
Difficulty steering
Reduced response to emergency driving situations
Concentration
Short-term memory loss
Speed control
Reduced information processing capability (e.g., signal detection, visual search)
Impaired perception
Reduced ability to maintain lane position and brake appropriately
Substantial impairment in vehicle control, attention to driving task, and in necessary visual and auditory information processing
DUI-Involved Crashes in Delaware
2015 - 2019
The Arrive Alive DE Visualizer is a first-of-its-kind interactive heat map tool that represents the hot spots of DUI -involved crashes in Delaware – with zoom in and out functionality. With this tool, the Delaware Office of Highway Safety is educating motorists on the dangers of driving under the influence of alcohol, illicit drugs and even legal prescriptions. If your plans include alcohol, be sure to line up a designated driver. And before you get behind the wheel, know the effects of drugs on your driving. Let's Be Drug Aware and Drive Sober so we can all Arrive Alive.
46% of impaired-involved crashes occur between 9 P.M. and 2 A.M.
45% of traffic fatalities were related to impairment.


Arrive Alive DE Visualizer
DUI-Involved Crash Tool
Zoom using the + and – controls, or with your thumb and forefinger.

fewer
more
A Sobering Reality
Impaired Driving Simulator
This is our augmented reality tool to help you see the potential effects of impairment on driving. Select "sober" then toggle to "impaired" to see how the view may change for a driver under the influence.
Warning: Some flashing lights sequences or patterns may affect photosensitive viewers.
Disclaimer: The tool has been developed to simulate the effects of alcohol impairment on driving. The driver in the video did not film while operating the vehicle and is not under the influence of alcohol or drugs. All impaired effects are computer-generated.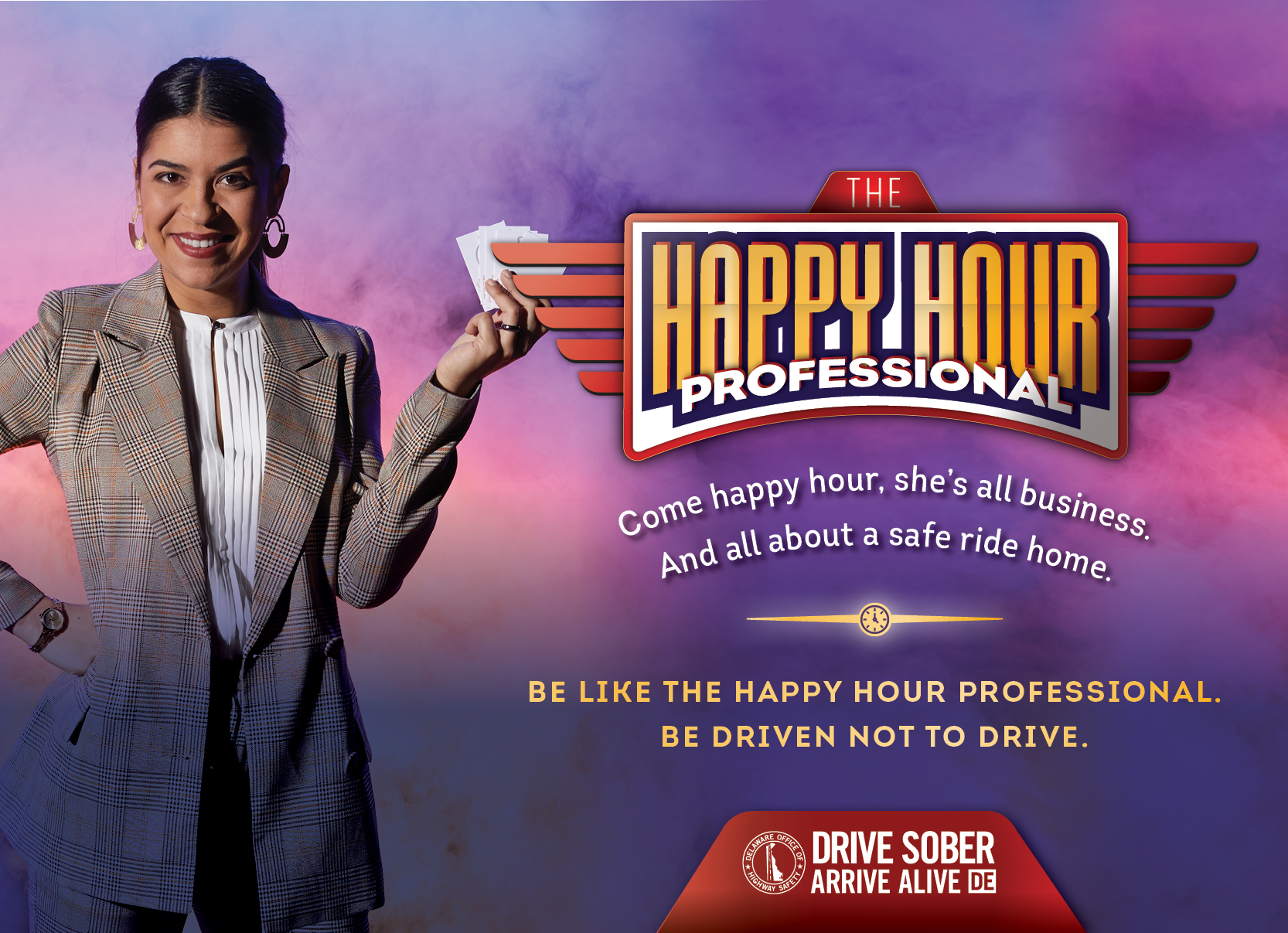 Come happy hour, she's all business. And all about a safe ride home. BE LIKE HER. BE DRIVEN NOT TO DRIVE.
What's Your DUI.Q.?
How well do you know the facts about alcohol, drugs and their effects on your driving? Take our quiz. The more you understand, the safer you'll be on Delaware roadways.
QUESTION 1 / 9

---

Cannabis makes you a better driver.

Your choice is

---

This is a myth. Like other drugs, cannabis affects your ability to drive, decreasing your coordination and slowing reaction times.

QUESTION 2 / 9

---

Alcohol is a stimulant.

Your choice is

---

Alcohol is actually is a depressant, which slows down the electrical processes in the central nervous system, impairing your ability to drive.

QUESTION 3 / 9

---

When drugs are mixed, the impairing effects of the dominant drug will be felt.

Your choice is

---

Drug combinations are unpredictable. They can enhance or impact the impairing effects in uncertain ways.

QUESTION 4 / 9

---

Law enforcement will not issue a DUI to a driver impaired by prescribed drugs.

Your choice is

---

Whether your impairment is the result of a prescribed, over-the-counter or illegal drug, you can still be arrested for DUI, so always read and follow your prescription labels.

QUESTION 5 / 9

---

You can still be a "designated driver" if you have just one drink.

Your choice is

---

Any amount of alcohol in your system can have an effect on your driving performance – more than you know.

QUESTION 6 / 9

---

In Delaware, one-third of all fatal traffic crashes involve drunk drivers.

Your choice is

---

This fact mirrors the national statistics for fatal crashes which result in approximately 10,000 U.S. deaths each year.

QUESTION 7 / 9

---

As long as I eat something, I can drink and drive safely.

Your choice is

---

While food can delay the absorption of alcohol into your body, it cannot prevent it. If you plan to drink, be sure to arrange for a ride home.

QUESTION 8 / 9

---

Hard liquor is more intoxicating than beer and wine.

Your choice is

---

Beer, wine, and liquor all contain the same kind of alcohol (ethanol). All things being equal, one standard drink should produce the same level of intoxication.

QUESTION 9 / 9

---

Coffee and cold showers are good ways to sober up more quickly.

Your choice is

---

The fact is, only time can remove alcohol from your body.
You Can't Drive Safely If You're Impaired
That's why it's illegal everywhere in the United States to drive while under the influence of alcohol, illicit drugs or even drugs prescribed by your doctor if misused. While they all carry the same severe penalties, different substances can affect you in different ways.
Alcohol, marijuana and other drugs:
Decrease coordination, judgment and reaction times
Cocaine and methamphetamine:
Can make you more aggressive and reckless
Two or more drugs combined (including alcohol):
Can amplify the impairing effects of each drug
Some prescriptions and over-the-counter drugs:
Can cause extreme drowsiness, dizziness and other side effects
DO YOU NEED HELP WITH AN ADDICTION?
Delaware offers personalized substance abuse care through START (Substance Use Treatment and Recovery Transformation), a program that makes it easier to get the help you need, from start to finish. Services include:
Gateway and peer support
Substance use screening and assessment
Medication Assisted Treatment (MAT)
Short- and long-term residential treatment
Hospitalization
Outpatient program
Social services
Goal setting
Housing & transportation
Behavioral health counseling
Case management
Community-based services
How to plan a safe ride.
Impaired drivers can't accurately assess their own impairment. If you plan to drink, make sure you have a safe way home. Here are some options to keep you—and everyone else—safer on Delaware's roadways.
Delaware Concierge Taxi, LLC
302-602-2222
Champion Transportation Services
302-383-4706
Victory Taxi Delaware
302-383-8826
Captain Taxi
302-384-3400
Ketch A Ride, LLC
302-399-1876
Happy Family Transportation
302-480-2568
City Cab of Delaware
302-734-8294
Complete Privacy Taxi & Chauffeur
302-463-5794
Beach Ride Taxi
302-645-6800
Small Wonder Bus - Rehoboth/Dewey Beaches
302-249-5086
Atlantic Transportation Services (Reservation)
302-644-6999